21 Feb

Firing the Flare Gun and Shouting, "Read it again!"  An Interview with Alex Schmidt and Michael Swaim, creators and hosts of the podcast Kurt Vonneguys. 

Firing the Flare Gun and Shouting, "Read it again!"  An Interview with Alex Schmidt and Michael Swaim, creators and hosts of the podcast Kurt Vonneguys. 

Born in 1922, Kurt Vonnegut grew up in the golden age of radio, when millions of people gathered around the wireless to be informed and entertained.  In Palm Sunday, he shared his appreciation for the "saints" of radio comedy, from Jack Benny and Fred Allen to the now-forgotten Stoopnagle and Budd, and Vonnegut's favorites, the comedy team Bob and Ray, who Vonnegut wrote "continued to create marvelous material for radio at a time when radio creatively was otherwise dead."

A century later, podcasts have replaced radio as the public's audio medium of choice. Unlike radio, podcasts are unglued from time.  Available on demand, a podcast, like a book, is brand-new until you've heard or read it, and so in late Fall 2021, I discovered the podcast Kurt Vonneguys hosted by Alex Schmidt and Michael Swaim. Launched in 2016, Schmidt and Swaim embarked on a re-reading of all of Vonnegut's work, with each podcast focusing on a specific book. Schmidt and Swaim combine their knowledge of the Vonnegut canon with an irreverent sense of comic play Vonnegut himself would have loved.  They touch all the bases in recounting each novel's plot, themes, and characters, but in a style far removed from a Literature 101 lecture.  Each podcast is akin to listening in on two good friends sharing their love of Vonnegut through stories, jokes, debates, and an enduring appreciation for The Sirens of Titan. Created for a general audience, even listeners who have read little to no Vonnegut will find themselves amused by the banter between Schmidt and Swaim. In a podcast crazy nation, Kurt Vonneguys is the perfect vehicle to introduce Vonnegut and his work to a new generation of readers.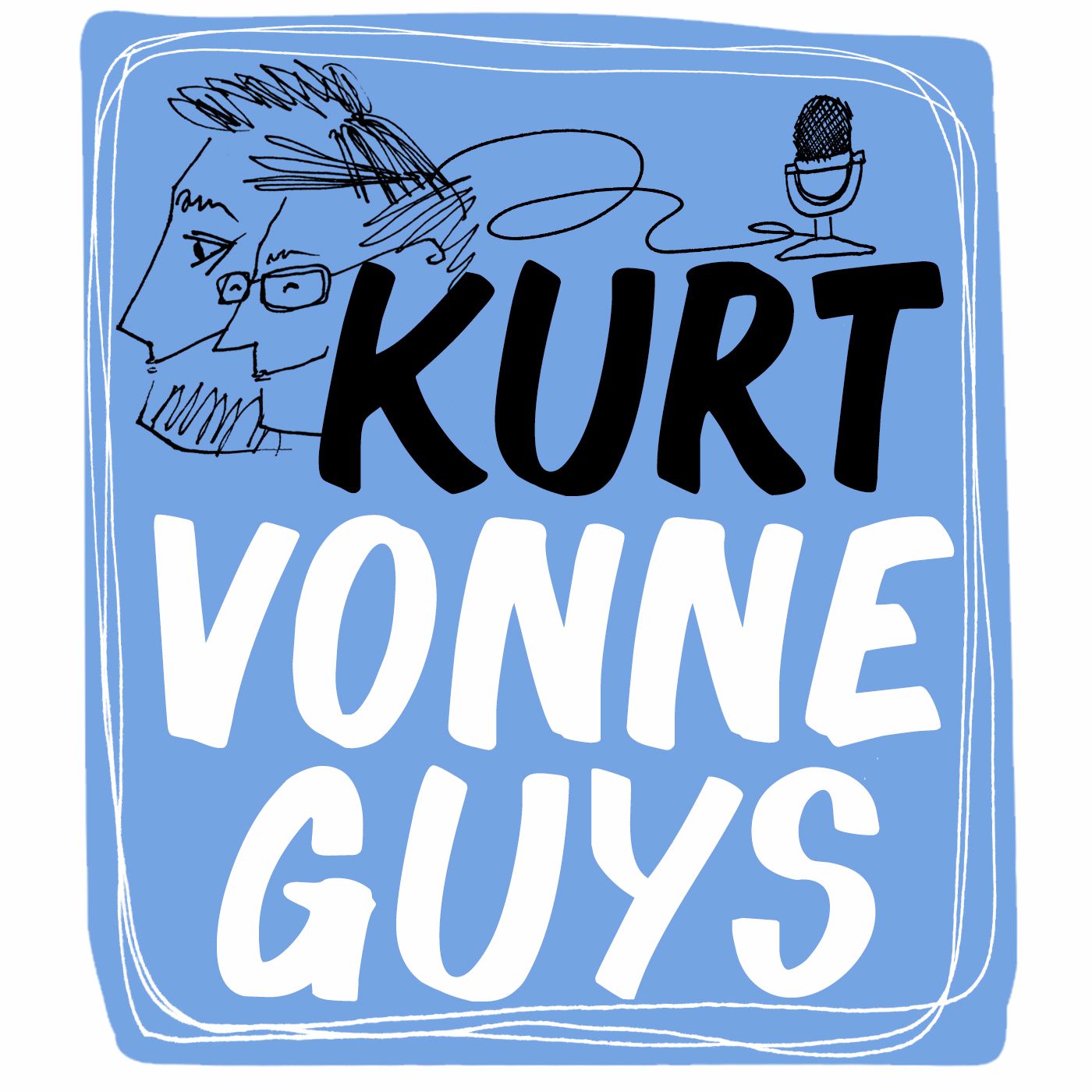 Schmidt and Swaim shared their thoughts with The Daily Vonnegut.
How did you come to create the Kurt Vonneguys podcast?
Michael Swaim:
Alex was the originator.
Alex Schmidt:
It was a really nice thing where we were both working at the same comedy website, called cracked.com, and I wore a t-shirt with the cover of The Sirens of Titan on it. Michael saw it and said, that's the movie I would make. And Michael's not just a wonderful writer and comedian, he's also great at directing, so I would really love to see that movie.  We started talking about Vonnegut and about both of us being massive fans of his books.  I think that was the genesis of it, the two of us making Vonnegut our thing.
Michael Swaim:
Alex is hiding his light under a bushel a little bit. He really spearheaded the structure of the show and the segmentation of it and got it all beated out. But I was very excited to be included just on having taken a shine to his shirt.  I couldn't be more gratified with what resulted.
That's a pretty good origin story. I have a Breakfast of Champions t-shirt but not a Sirens of Titan. So I'll start with you, Alex. When did you first become a Vonnegut reader?
 Alex Schmidt:
I had a high school class where it was an independent study for the whole year, and for some reason it also had summer reading with a list of 30 books you could choose from. I happened to pick Cat's Cradle, which was the only Vonnegut on it.  That was the spark. It was Cat's Cradle.
 Michael Swaim:
For me it was a little younger and a little odder. My dad had a very regimented idea about what kind of great media we needed to imbibe so I was read The Sirens of Titan as a bedtime story when I was 10 or 11 years old, and he encouraged us to stop and ask questions, like "what does this mean on a metaphysical scale?"  And so I really credit my dad with introducing me to it. The Sirens of Titan became my favorite book all the way until high school when I finally figured I should hit the library and read some other things by Kurt Vonnegut, and then I just went on a tear and read nine or ten of the books, not all of them exhaustively, which was why the Vonneguys podcast was such a treat, because I finally got to fill out every corner and realize that ultimately my favorite Vonnegut is probably Breakfast of Champions.
 In 2016, when you started the podcast, were you surprised by anything in your reading or re-reading of Vonnegut?  Did you discover some things that maybe you had missed?
 Michael Swaim:
For me, I find that I get something new from Vonnegut every time I revisit him, which is arguably why he's among my favorite authors of all time.  Approaching it as an adult and not a 10-year-old, the idea of a Tralfamadorian coming halfway across the galaxy and warping our entire civilization just to say "Greetings" struck me as such a great sci-fi concept as a kid and made me want to write my own sci-fi stories with weird aliens in them. But as an adult, of course, I'm keyed into the themes of loss of innocence and nihilism and everything being meaningless and how do you derive meaning, a sort of existentialist bent. I think what I got most out of the Vonneguys journey was realizing that Kurt, however much you can ascribe it to his experiences in the war, for some reason, he's fixated on the same kinds of existentialist concepts that continue to fascinate me.
I think that's why I ended up finally landing on Breakfast of Champions because it so directly deals with these issues.  He presents the apple to the reader, and it's like, what does this mean to you? The idea of the hollowness of meaning, but also our ability to create our own meaning and our own connections and carve a life out for ourselves is just endlessly fascinating to me. And I think Kurt is an author that is deceptively accessible. It was the kind of thing that as a 10-year-old I could follow the plot, but as a 35- year-old, I can still have my mind blown by the level of insight that's woven into these seemingly simple, as he called them, mosaics of jokes.
Alex Schmidt:
Yeah, 100 %. I'll add that I really liked that each of us started reading him from something besides Slaughterhouse Five, because it's an amazing book, and I think we each had read at least 10 of his novels before we started the podcast but getting to read the whole run of his work, it's such a deep catalog. There's so many different books where he has so many different, amazing jokes and then also amazing approaches to those questions Michael was describing. And I also ended up coming to Breakfast of Champions, which is my favorite, too. Getting to read all of them in a row really crystallized how much he hit his great American novel with that one, if he has one. And then on top of that, he has this incredible book, Slaughterhouse Five, which so many people come back to so often for a good reason. But he's so great, and so prolific, there's so much more there, too.
If you could time travel and get Kurt as a guest on your podcast, what would you want to ask him?
 Alex Schmidt:
I'd have to stop hyperventilating first. I don't know.
Michael Swaim:
That's a hard one. It really is.
Alex Schmidt:
His last works were such an engagement with what was going on at that time in the world of the Bush era. I am anxious about updating him on some of what happened since then, but also really want to know what he thinks; not just because I'm selfish, but also he'd have amazing things to say.
Michael Swaim:
If I could resurrect him from the dead, I would want to know how that battle between cynicism and hope landed for him. But I think Alex is going about it the right way because, boy, Kurt sort of went out railing against Bush and Chaney and Powell. I don't know how he could've stomached the Trump era, and what he would've made of that. I think he would've made it hilarious, but I think he also would've taken it as a bad omen. I see him as such a font of wisdom that I'd want to know: so do you think we're going to make it, Kurt? Given what's happened since you passed, what do you think? Which way are we headed here? Because I'd trust his answer, frankly.
So how has the podcast been received? Do you get feedback from your audience?
 Alex Schmidt:
It's been really kind. I find that unsurprising with the kind of people who read Kurt Vonnegut. We did a run of everything he published in life from sometime in 2016 to the start of 2018. And then we came back with a couple episodes. We did one in 2021 about a new graphic novel of Slaughterhouse Five by Ryan North and Albert Monteys. And then we're doing a couple more at the start of this year too, because there's an amazing Robert Weide documentary, which you covered. And then there's Tom Rosten's book, The Writer's Crusade.  So we're going to do new episodes on all those. And people have just sent really nice replies and messages about how excited they are that the podcast is back.  Occasionally people have also told us they listen to the whole run of the podcast and then start over and listen to all of it again, which is really sweet. I don't think I've ever made any other audio that people have done that with.
Michael Swaim:
There are a few folks who I think fall asleep to our voices pretty regularly, which is the ultimate podcasting compliment. And we both have since launched multiple other podcasts on different topics. I run a podcast network called Small Beans with a plethora of different podcasts on various topics. And Alex has Secretly Incredibly Fascinating, which is a phenomenal podcast.
I can't speak for Alex, of course, but in my experience, the longest legs of any audio material I've ever worked on is Vonneguys. The fact that I still get people finding it, for the first time often, and saying either, I've already read all of Vonnegut, but I really enjoyed the podcast for that reason or, even better, the reverse, I had only ever read Slaughterhouse Five. I found your podcast and now I'm embarking on this journey of reading everything Vonnegut ever wrote. I do think it has something to do with what Alex said about the people that Vonnegut really resonates with are, at heart, humanists like him. So it's hard to imagine a hardcore Vonnegut fan who's very mean. So yeah, everyone's been lovely.
 You mentioned the documentary. Have you seen it and if so, what are your thoughts?
Alex Schmidt:
I was gratified to find out that my opinion roughly lands where notable critics have landed, which is that it's very well put together, a great overview of all the major beats of Vonnegut's life, and it was pretty clever for Weide to involve the making of the documentary itself into the narrative and weave that element in. But by the end it felt almost like a bit of an overreach. Weide seemed to be comparing his own life to Vonnegut's.
Michael Swaim:
And then by the end of (recording the podcast) we found out, yeah, that's how most people are vibing with it. But honestly, it's really well put together, we both found it very engaging and just great to see Vonnegut on film and get that impression of him that you can't get from the written word. Especially when he says something that, if you read it on the printed page, you'd go, well, I'll take his word for it. He's Kurt Vonnegut. Like when he says, neighborhood dogs have shaped me more than my experiences in the war, there's something unique about seeing him say that on film where you think, I don't quite buy it. I can feel the tension inside him when he says it, which is something you can't get from the curated page.
He has that element of a performer and that comes across strongly.  Obviously he's performing on the page, but when you see him in person, he's part stand-up to a certain extent.
 Michael Swaim:
In the episode we talked briefly about how we think the ultimate format for Vonnegut might be public speaking, even more than the written page, he's just such a phenomenal orator and able to breathe life into his own words so well.
Did you ever get the opportunity to see him speak?
Alex Schmidt:
No.
Michael Swaim:
No. I saw Hal Holbrook doing Mark Twain, that's as close as I'll ever get.
I did see him and he was exactly what you would expect him to be. I saw him around 2001, and he was "Vonnegut," without question.
 You've avoided the posthumous collections so far.  In the graphic novel podcast you mentioned that you were glad that you had liked it and wouldn't want to do a podcast about something that you disliked.  Have you read the posthumously published work?  Where do you stand on those collections?
Alex Schmidt:
I think, for me, I've read a lot of chunks of them, and by chunks I mean entire books because it's several books, but in general, I'm totally happy they exist. And I don't think any of them has ever reached the heights of his existing novels plus the collections that he chose. So I think we could podcast it and most of my takes on the podcast would be, these are all right. But I feel like Kurt was wonderful at curating himself.  We often do a segment called Franken-time for any of the work like Palm Sunday or Fates Worth Than Death or anything where he was kind of cutting and pasting stuff, including the texts of lectures. He was brilliant at really harvesting the pearls of his work for himself. I hope people aren't disappointed that we haven't done the stuff that was put out after he died.
Michael Swaim:
I think that's right on. In the beginning of his career where he was just putting any short story he could get published out into the world there was a bit more of a hit and miss quality, where some are unmitigated masterpieces and some are fine sci-fi short stories, but they don't sing in the way Vonnegut often does. And I feel like, by the end, Timequake still has moments that absolutely stand amongst any of the best moments of Vonnegut. But I don't know that I want to end the podcast on a note of now we're going to dive into the stuff that he didn't necessarily want released and say that it's just okay. I think that's where we both landed.
I totally agree.  I'm glad they exist, but they're for completists. I wonder, though, if somebody picks up one of those books as their first Vonnegut experience, will they continue to read him?  So that's a minor concern, but eventually people will find the work.
 A certain number of male writers from Kurt's generation like John Updike, Philip Roth, even a Richard Brautigan, have certainly fallen out of favor. Updike was huge in his time but does anybody pick up and read his work anymore?  No one is creating a Rabbit, Run graphic novel to reach new audiences.  But Kurt is still well received whereas others of his generation aren't. Do you had any thoughts on why that might be?
 Michael Swaim:
I think it is his willingness to write in the vernacular, to take the self-deprecation route, and think of himself as almost akin to a standup comedian. Ironically, he described working in sci-fi and humor as a drawer that critics mistake for a urinal. I think he secretly pulled one over on all of them because those elements make his work timeless and alive in a way that seems to diminish less rapidly than authors who take themselves very seriously and try to present the great American novel. Kurt was never trying to present the great American novel, and by not trying, he achieved it and made it look easy.
Alex Schmidt:
I'll add something that I feel is the same about Mark Twain and maybe the Marx brothers in film comedy, too.  Through a lot of comedy and a lot of craft, they managed to defeat time in a way that their contemporaries couldn't.
Michael Swaim:
On the negative side, I'd just add that Kurt was also a master of dark satire regarding problems that unfortunately plague us just as much as they did when he was writing. So he remains relevant in that sense.
 We mentioned this at the beginning: The Sirens of Titan, the movie.  In almost every podcast, you mentioned it.  What is it about that book that makes you see it on the screen?
 Michael Swaim:
I think it's the same thing that was brought to the stage production Alex and I got to see as part of Vonneguys. Which is just that it's absolutely wild. It's chock full of specificity and imagination in a kind of straightforward way that Vonnegut then moved away from. He, to his credit, started becoming a master of things like impressionism, abstraction, ellipsing time, bouncing back and forth between thought and image, and of course, even illustration. Sirens of Titan felt like he was still trying to make his mark as a traditional sci-fi author, enough so that it just speaks to me as a filmmaker and as a storyteller much more directly than Slaughterhouse Five, which has been, of course, adapted into film. Mother Night is the other one that comes to mind that is very filmic and of course was made into a film.
I'm very much into traditional hard sci-fi; The Sirens of Titan fits right into my interests. As a screenwriter, I appreciate how it breaks into the three-act structure very neatly. And it has a big world flip at the midpoint. It's basically got all the bits and bobs that you want when adapting something to film. Whereas with Slaughterhouse Five, everyone who comes to it has to ask themselves questions like, how am I going to represent the conversational style Vonnegut has of breaking the fourth wall and inserting himself. Sirens of Titan doesn't really have that. It's just got strong, consistent characters, like Winston Niles Rumfoord who exists within himself and doesn't ever see a ghost of his father or devolve into pure thought. It's very concrete. That's something you only get with the earlier half of his work.
Alex Schmidt:
If nothing else, you'd definitely benefit from not needing to cast somebody to play Kurt Vonnegut. I don't think he pops up within the book. He just writes it.
Michael Swaim:
Let's be honest. He is Winston a bit. But Ed Begley Jr would be my pick for Winston, I think.
Have either of you ever seen the film version of Slapstick with Jerry Lewis?
 Alex Schmidt:
No. We were just talking about that. Because with taping this episode about the documentary, we were kind of briefly retrospectiving our own thoughts on the movies because we'd baked them all into the episodes about the books and, at the time we did the Slapstick episode, we weren't able to get a hold of it. I saw a trailer on YouTube and it looked pretty grim to me, but if people love it, that's great, you know.
Michael Swaim:
Have you seen it?
 I have seen it. It's bad, no question. I'm actually somebody who likes Jerry Lewis and I still think it's terrible.  You wonder what anybody was thinking when they were making it.
 In doing this podcast, how do you hope to contribute to the conversation about Vonnegut's work? He's a writer that is extremely well known, and there's a good amount written about him, more than about most authors, certainly. What do you hope to add to the conversation?
 Alex Schmidt:
If I had to pick one thing, I think it's increasing the amount of conversation. As famous as he is, as much notice as he has received, I think he's also still somewhat unknown for many people. Maybe I'm misunderstanding the overall knowledge of him, but I love the idea of creating additional space where he is talked about, celebrated, and also examined with a modern eye.  I sense and hope that that makes him reach more people because I think his work has really been beneficial to my life, mind, and happiness, and so I want everyone else to meet his work.
Michael Swaim:
Absolutely. I feel like if anything, I hope that we encourage people to read even more deeply and sort of put a mark around Vonnegut's work and say, this holds up to a level of scrutiny that will reward you for your entire life. And there's very little creative work that actually does that.
Whereas I really think Vonnegut takes the absolute limits of joy and despair and shows that they're almost the same thing, like his refrain that we don't know what the good news and the bad news is. He's paired his wisdom down to five to ten vital things that I find so full of life and so important. And so additive to my journey that I just want to fire off the flare gun and say, read it again, read it again. This will continually reward you every time you approach it.
Alex Schmidt is a comedy writer, podcaster, and Internet thing-maker. He's the host and creator of the 'Secretly Incredibly Fascinating' podcast, as well as the miniseries '1 Way To Make An Emoji'. Alex is also a 4-time 'Jeopardy!' Champion, the creator of the bison emoji, and the owner of the domain name alexschmidty.com.
Michael Schwaim is a formless thing of wanton coalescence, ever building sandcastles in the middle of the highway. A UC-San Diego graduate and Los Angeles native, you can find his work at Cracked, McSweeny's, IGN, and on the Small Beans podcasting network as well as the New York Times bestseller list. In his time as a thinking animal, he's had the compulsive pleasure of creating or helping to create sketches, articles, anthologies, plays, podcasts, and exactly one feature film, one comic book, and one video game. He craves your approval.